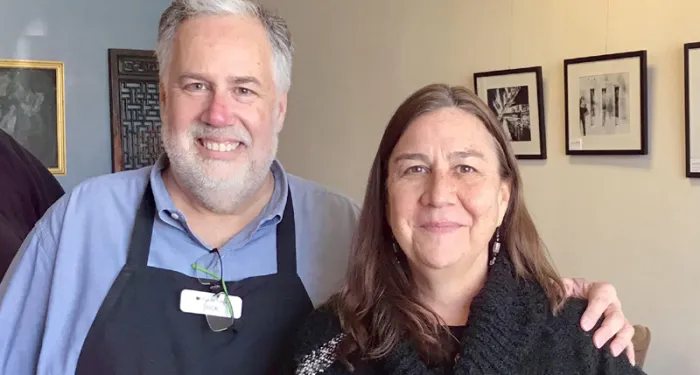 Dec 4 | 2018 | Season 3/Episode 25
Susan Trieschmann
The Cafe That Keeps Kids Out of Jail
Most juvenile offenders end up back in prison — but not at Curt's Cafe, a coffee shop offers a path to a better life.
"The state of Illinois has an 86% recidivism rate for youth," explains Susan Trieschmann, the founder of Curt's Cafe.

What that means in real terms: Of every 100 kids who wind up committing a crime, 86 of them will do so again — unless they're shown a better way.
It's a huge and expensive problem. Illinois Sentencing Policy Advisory Council and Pew Charitable Trusts estimate that recidivism will cost the state $13 billion over 5 years.
But Trieschmann's cafe shows that there is a better way.
Curt's Cafe, which originally opened in Evanston, Illinois, and has since expanded to other locations in the Chicago area, has been providing work- and life-skills training since 2012. They work with "the highest at-risk youth," according to Trieschmann — kids who are on probation or parole.
Most spend three to four months at Curt's Cafe, but it some stay for up to a year or more. And the great majority of them walk away changed forever, and for the better.
"Our recidivism rate is 3%, and in 2017, it's zero," Trieschmann explains.
In this episode, Trieschmann sits down alongside volunteer Rick Planos, who nominated Curt's Cafe to appear on Crazy Good Turns. They speak with our host, Frank Blake, and a special guest host, CGT listener Bev Bachel.
A tribute to Frank's former boss. President George H.W. Bush recently passed away at age 94. Frank worked for Bush when he was Vice President. Here's a letter Frank wrote about the leadership lessons he learned from Bush, and the one thing he'll never forget.