What is the Crazy Good Turns $50 Thank You Award?
It's simple.
There are many people doing good deeds in this world.

When you take time to recognize one, we'll send them a Thank You letter and $50 gift card on your behalf.
And we do it at no cost to you whatsoever.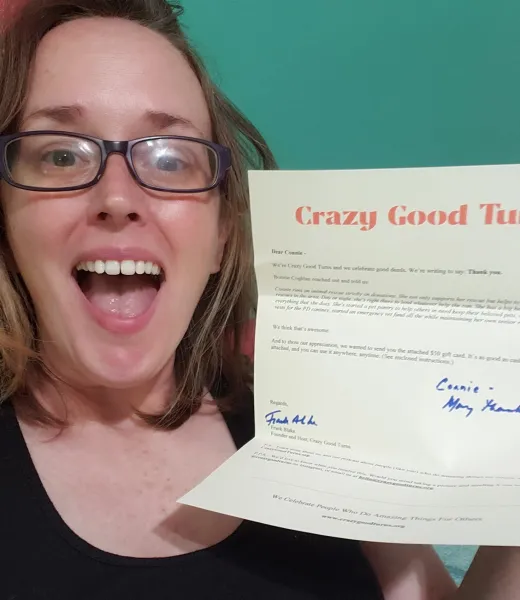 Why should you send a $50 Thank You?

To show gratitude — and create a moment of delight — for someone who makes your world a little better.
Right now there are people around you who are giving of themselves through their work, their volunteering, or their kindness toward others.

Sending them a note of thanks will make them feel appreciated, happy and encouraged.
Who's Received Awards So Far?
Crazy Good Turns already has sent $27,800 in Thank You Awards to more than 550 people.

Here are just a few of their stories…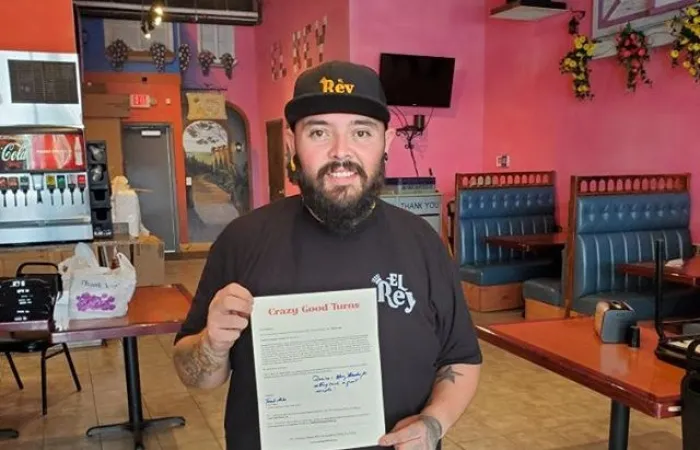 "When schools in our area closed for the pandemic, kids were losing access to their school lunches. Ramiro announced that his restaurants would be offer FREE lunches for kids in need.
He then opened it up to free kids' meals all day, no purchase necessary, because they didn't want children to go hungry. In less than a month, they'd distributed 688 free kids meals to families out of their 3 locations.
Ramiro, his family and his employees are awesome!"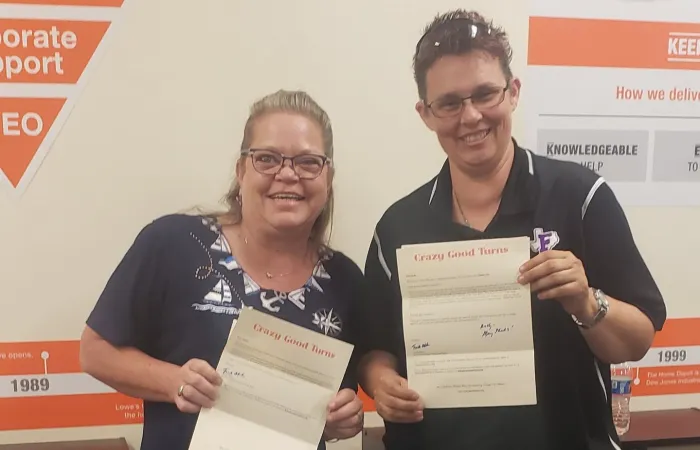 "
Kelly
is amazing! She's been with The Home Depot for 3 years, starting as an order puller, then becoming a supervisor and soon after a Department Head.
Prior to her Home Depot career, Kelly spent 23 years in the Army. She is like the sister I never had. We think a lot alike and we do projects together for the store for special occasions.
I do not know anyone more deserving for a huge "Thank You" for all she does."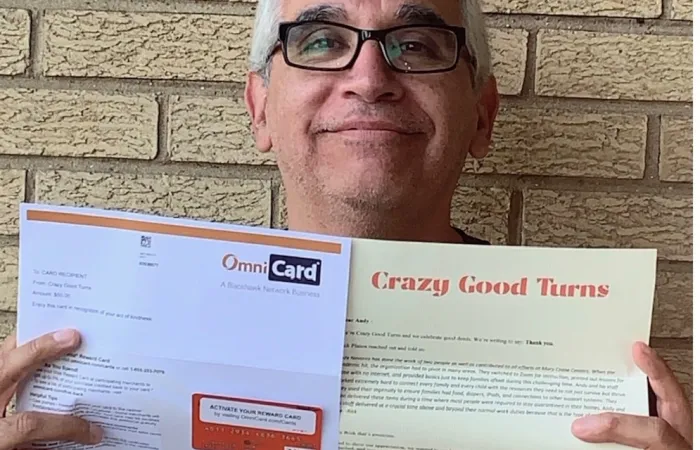 "Andy did the work of two people at Mary Crane Centers when the pandemic hit. Andy and his staff worked extremely hard to connect every family and every child with the resources they need to not just survive but thrive. They used their ingenuity to ensure families had food, diapers, iPads, and connections to other support systems.
They then delivered these items during a time where most people were required to stay quarantined in their homes.
Andy and his staff delivered at a crucial time above and beyond their normal work duties because that is the type of people they are."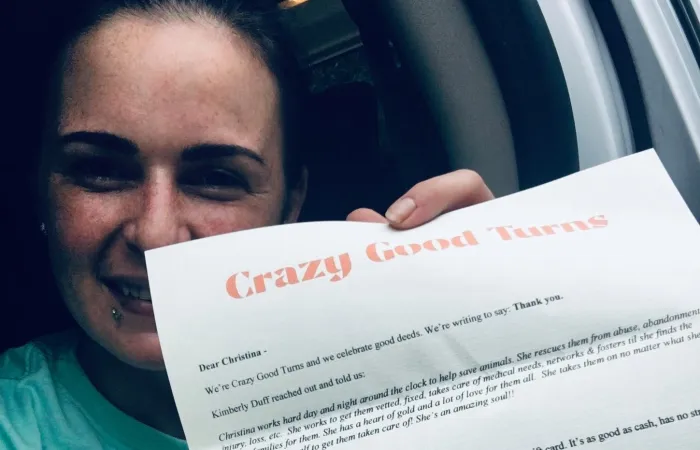 "Christina spent the days after Tropical Storm Cristobal rescuing stranded and injured wildlife.
As a licensed wildlife rehabilitator she's responsible for their care and rehab. She also runs an animal rescue center and is generous with her time and heart.
She's the first to step up to help both animals and people. To raise funds, she makes the best chocolate-dipped cookies and brings them to local EMS agencies. She's a shining star!"
What Do Award Winners Receive?
Each selected nominee receives...

A Thank You letter hand-signed by Crazy Good Turns founder Frank Blake
A $50 Gift Card, which they can use however they like
Why is it a hand-signed letter sent by mail?
Because experience shows that receiving something tangible makes the experience more impactful.
Think about it:
How often do you receive physical mail anymore?
When's the last time you received a handwritten note?
Didn't you pay more attention to that note than to the dozen or so new emails that turned up in your inbox overnight?
We believe that good deeds deserve more attention. So we give it.
Ready to nominate someone?
What's the Catch?
There isn't one. We're doing this because we believe it helps make the world better.
To prove there's no catch, Crazy Good Turns commits to you:
We are not advertiser-supported.
We will never try to sell you anything.
We will never share your info with another organization.
We will never ask you for a donation to our organization.
After making your nomination, you will be added to our digital newsletter list. You'll receive messages about our latest podcast episodes or other stories. If you don't love them, you can unsubscribe anytime.
If you're already a member of our newsletter list, you can still nominate whoever you like.
Who Can I Nominate?
Anyone who's done something kind or generous for someone else is an eligible recipient for the Crazy Good Turns $50 Thank You. There are no formal rules for the program, but here are four guidelines to follow when making your nomination.
Anyone can nominate up to three (3) individuals.
Don't nominate yourself - the point is to recognize someone else.
No group nominations. For example, you might thank a drum major who volunteered his time to cheer up hospitalized kids, but don't nominate the entire Ohio University Marching 110.
Due to mail constraints, nominees must reside in the U.S. only.
How Do I Nominate Someone?
To send your nomination, you'll need to know the following:
The person's name (first and last, please)
A street address where we can send the award
The story of what the person did for you or others
For preparing the story, please note: The easier the story is to understand, the easier it is for us to send the award. Therefore, when writing the story, please provide enough detail so we can understand why this person is great, kind or generous.
Example of a bad, hard-to-understand nomination: "John is a nice guy and helps people out. Send him the $50."
When we receive something like this, our team has to email you back to better understand who John is and what he did that makes him deserving. We need those details for the thank you letter we'll send them. If they're not apparent from the message, we have to ask you for them. This takes up more of our time and yours.
Example of a good, easy-to-fulfill award nomination: "Kate put herself in harm's way to help me many times during the pandemic. I am in the high-risk category, so she went shopping for me several times a week for groceries and pharmacy items. She also made time for me, even though she had to do Zoom teaching lessons for her class and deal with her own 3 children. She went above and beyond to make sure I had what I needed."
When we receive a nomination like the one above, which is clear and compelling, we're all set. We'll simply send them the award and thank you card on your behalf. As you can see from the "good" example, which is just over 70 words, nominations don't need to be long. It can be something you'd write in 5 minutes, so long as the person's story is clear for others to understand.
Our Goal: $55,000 in Gifts
That's 1,100 Thank You Awards to people who deserve them. Send yours today.
Thank Someone!
You can experience how great it feels to send someone a Crazy Good Turns $50 Thank You Award.
How It Feels to Send a Crazy Good Thanks Award
Their stories span all walks of life. Some are teachers, nurses or firefighters. Others work in restaurants or retail outlets. Still others have retired, or are teenagers (or children) who haven't yet started their careers. What they all have in common: Kindness toward others.
"My aunt just called me and she was SO HAPPY about receiving her Thank You Award! Wow guys, what an amazing thing you're doing!!! Giving the gift of happiness. Thank you."
Jordan P.
"Thank you Crazy Good Turns for sending my mom a Thank You gift card! I nominated her for all she does in the community, for her work with the Owosso Pregnancy Resource Center, and for making sure those in need have diapers and wipes during this difficult time."
Angie K.
"My son Michael called me yesterday to tell me he received a $50 Gift Card from Crazy Good Turns because I nominated him for being so kind to his employees! As Michael says, 'It was a good Karma day.'"
Bonnie P.
"Thank you, team! Frank, you always said to burn your free fuel first. I'm very thankful you continue to set this example as well as allowing others to jump on board! Thank you for spreading positivity."
Kevin C.
"Thomas Jones received his letter and gift as he delivered my senior meal today. He felt so grateful. We both couldn't believe the goodness of you people. You helped to restore our faith and hope."
Dorothy M.
"I am delighted to report that Catherine called me this morning to say she received her card. She was SO thrilled! In fact, she plans to nominate a couple of people herself because she thinks this is such an amazing idea. Thank you, and all your colleagues, for providing a way for us to acknowledge the folks who are going 'above and beyond' in doing good things for those around them."
Karen P.
Being recognized was heartwarming and special. What your organization does makes a difference.
Abby
Make-a-Wish Volunteer
How wonderful is that? To have a physical 'thank you.' That was important to [the person I thanked]
Michelle
Sent two Thank You's.
When I opened the letter, I started reading and was like, 'Oh, my goodness." It felt great that somebody noticed what we were doing. It was a big push for me, and makes me want to continue doing it.
Ramiro
Restaurateur who provided free meals to kids in need
Nominating someone can have a positive impact on their life. I'm an example of that. Somebody did it for me, and I wanted to make sure I pay it forward. We need more active kindness. We need to take the five minutes and be intentional in recognizing and celebrating people who are doing awesome things out there.
Yoanky Hernandez
"Thank You" award nominee and nominator