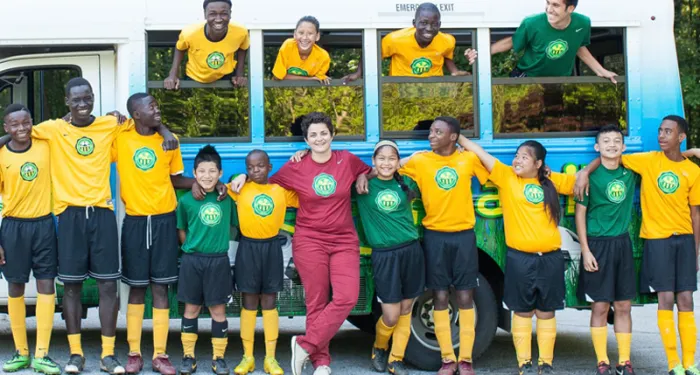 Jun 19 | 2018 | Season 3/Episode 13
Luma Mufleh
Fugees Academy: An American School Showing Society at Its Best
A school in the Deep South is changing hearts and developing minds with a "tough love approach" that works.
Imagine a place where children of every race and religion live in harmony.

Picture a building where people from totally separate ethnic backgrounds co-exist peacefully under one roof, sharing food and gifts on one another's holidays, and overcoming differences through communication and understanding, rather than fighting. And each day these not only learn but also play together, forming sports teams that aren't just fun, they rank among the best.
This may sound like a far-fetched utopia. But it's reality at Fugees Academy.
As you might guess from the name, the kids who attend the school are the children of refugees. Their families have fled from one of the many conflict zones around the world, like Bosnia, Syria, Afghanistan, Iraq or Sudan. But what surprises people the most about Fugees Academy is where the school is based: in the heart of the Deep South, just outside of Atlanta.
"People are always shocked how we're running our school in Georgia. Yeah, we're running our school in Georgia. We're having a great time doing it," says Luma Mufleh.
Luma founded the school in 2007, but her work with refugee kids in Atlanta started several years before. In fact, Fugees Academy traces its beginnings to a soccer pitch, where Luma unexpectedly discovered some promising young athletes who needed something more than just a coach.
"I was like, 'If these were my kids, what would I do?'" Luma says. "I thought, 'Okay, if this was my kid I would put them in a private school that could meet their needs.' I couldn't afford a private school so it was a lot cheaper to start a private school."
In this episode you'll hear how the school she launched grew from something that served a handful of kids in a church basement to a grade 6-12 academy that serving 90 students. The school uses a "tough love," "military meets Montessori" teaching style that's unlike anything you've seen — and it's working.
In a little more than a decade of existence, Fugees Academy put up some enviable numbers: 100% graduation rate. 100% college placement for graduates. Crazy-high improvements in math and reading scores. All of these are big reasons why Fugees will open a second location this year, with more schools in other states planned for the years ahead.
Visit a school that will warm your heart, give you hope — and that may be coming to a location near you soon. Listen now.