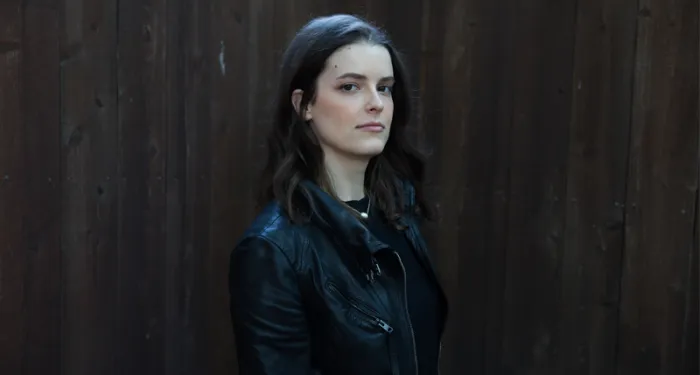 May 22 | 2018 | Season 3/Episode 11
Emily Kennedy
She Tracks Down Sex Traffickers
In middle school, Emily Kennedy thought sex trafficking "was the worst fate I could think of." Now she's the CEO of Marinus Analytics, a tech company that's helping cops send traffickers to jail.
You could say Emily Kennedy is a crusader. When she hears about something wrong, she won't let it go.

"I grew up with 'an overactive sense of justice,' as one of my elementary school teachers put it," Emily says. "Definitely not wanting people to be bullied, not wanting people to be oppressed."
The Bay Area native first heard about sex trafficking from a youth leader in her church. He'd been working to help victims in Cambodia. Kennedy, who was just in middle school at the time, couldn't shake the things she'd heard.
"Then, I came to understand that it wasn't just other countries," Emily says. "People think it's not happening in the U.S., but it is."
It's normal to hear about something so heinous as sex trafficking and be upset. What makes Emily exceptional is: She did something about it. In fact, she's dedicated her life to fighting it.
Emily continued to research sex trafficking throughout high school. By college, the crime — and the complex nature of how it's perpetrated — was the subject of her thesis. Emily says, "My roommates would joke at me, saying, 'Are you looking at sex ads on a Friday night again?' And I'd say, 'Yup. You know me, I'm just in my jammies looking at human trafficking stuff.'"
Eventually, Emily partnered with the robotics lab at her university, Carnegie Mellon, to develop a tool capable of monitoring the websites where sex and human trafficking transactions take place. Her work drew the attention of federal and local detectives, who put it to work in their investigations — and used it to put traffickers behind bars.
The tool Emily developed, known as Traffic Jam, today is being used by investigators nationwide. Emily is now CEO of Marinus Analytics, the company behind Traffic Jam and other artificial intelligence tools that fight crime. And their work has led to the rescue of hundreds of sex trafficking victims.
This episode starts out with a Super Bowl sting operation and introduces you to an exceptional young woman who's decoding a crime that's often underestimated or misunderstood. Listen now.
You Can Stop Sex Trafficking. Some simple steps you can take include:
Let's Celebrate…Those Who Make a Difference. This episode is brought to you by the TIAA Difference Maker 100. If you work for a non-profit — or know someone who does — then you should definitely check it out.
The financial services firm TIAA is celebrating its 100th anniversary by recognizing 100 people who work for nonprofit organizations and are having a positive impact on the world with $10,000 to support the nonprofit organization through which they are making a difference. That's $1 million in donations to help difference makers like you keep up the good work.
Enter for your chance to win by sharing your story at TIAAdifferencemaker100.com between now and June 12. You can also nominate a friend by sharing their story, and they'll receive a chance to apply for an award.