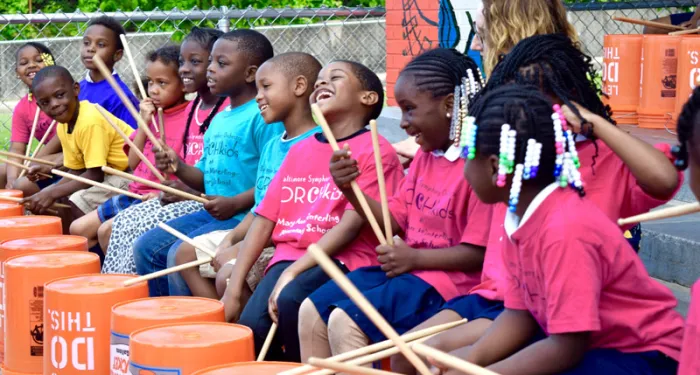 Jul 17 | 2018 | Season 3/Episode 15
OrchKids
An Orchestra Changes the Tune for Inner City Kids
Baltimore Symphony Orchestra's OrchKids program opens minds and doors to new opportunities for students at inner city schools.
When Marin Alsop achieved a lifelong dream, something didn't feel right.

She'd taken over as the music director of the Baltimore Symphony Orchestra, making her the first woman ever to lead a major U.S. orchestra. But the crowds packing her concert hall looked nothing like the city surrounding it.
"Seeing the community here in Baltimore, which is predominantly African-American, and then looking at our orchestra on stage, which is overwhelmingly white, there was such a disconnect. And why is that? Because kids don't have the same opportunities," Alsop says.
So Alsop set out to change that. She wanted to introduce the beauty of symphonic music to kids who might not otherwise discover it.
"I came to parenting quite late in life," Alsop says. "I have a 15-year-old son now, and watching him grow up has made me realize that every child is born a genius. But we as society just kind of suck that genius out of them."
Alsop launched a program called OrchKids, which helps students in Baltimore's public school system discover that genius instead. Today more than 1,300 students at eight schools take part in after-school classes that introduce them to the fundamentals of music and show them how to play instruments like the violin or piano. But it started with just 30 kids in a single classroom — and Alsop herself footing the bill.
Today, OrchKids is entering its 11th year, and several of its past students have went on to study art or music at prestigious colleges. But for many more, participating in the program is more about opening their mind to a world of limitless possibilities.
"I don't think that anyone is ever going to go tell an OrchKid, 'You can't do that,'" Alsop says. "Because they're gonna say, 'Oh, yes I can.'" Find out why in this episode.