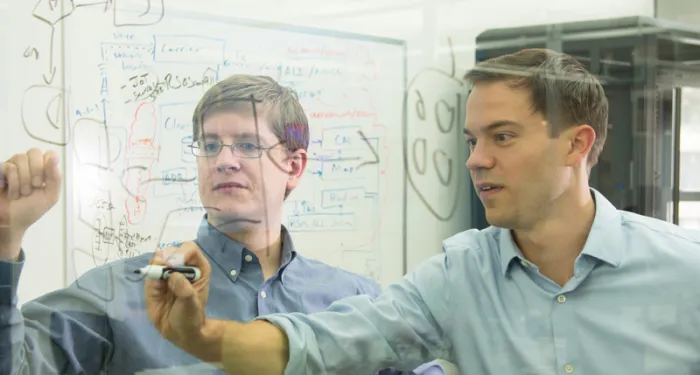 Nov 11 | 2018 | Season 3/Episode 23
RapidSOS
These Tech Wizards Want to Make 911 More Like Uber
A team of "computer nerds" spot a huge hole in emergency services. Their solution may save 10,000 lives a year (or more!).
Disaster strikes. You're terrified. You might even fear for your life.
So you pull out your smartphone and dial 911.
But here's what you don't expect:
The person on the other end doesn't know where you are — unless you tell them.
This may seem unbelievable — especially in an age where your cell phone can bring you taxi service or takeout food seemingly anywhere. But it's true: Many 911 call centers aren't able to quickly pinpoint the exact location of a person who called them from a cell phone.
"The result is that in the middle of an emergency you need to verbally articulate your name, location, and what is occurring," says Michael Martin of RapidSOS.
Martin and his team at RapidSOS is working to change that. He's built a team of software engineers to help 911 call centers find people who call from a cell phone faster — and without them having to speak their location. The FCC estimates that their efforts have the potential to save more than 10,000 lives each year.
In this episode, you'll meet Martin, and hear about a string of unfortunate incidents in his life that led him to pursue the work he's doing today. You'll also gain a greater appreciation for the heroes inside our nation's 911 call centers, who handle more than 650,000 emergency calls each day.