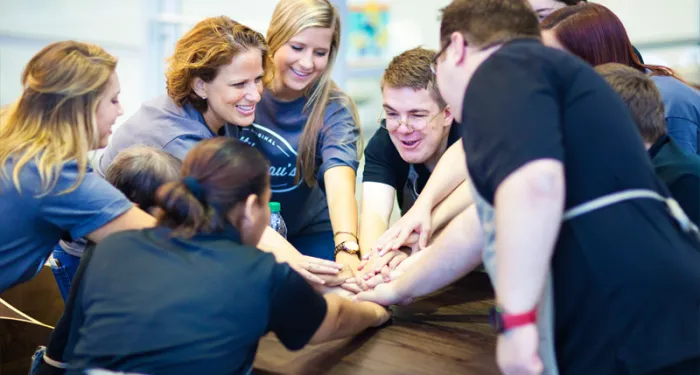 Sep 12 | 2017 | Season 2/Episode 14
Amy Wright
Bitty and Beau's
Most developmentally disabled people are unemployed. A North Carolina mom set out to solve that—and wound up creating a coffee shop that serves up joy every day.
Description
More Information
What would it be like to go to work at a place where you always smile, people are genuinely glad to see you, and there always seems to be at least one coworker who reaches a new milestone every day?
That's life at Bitty and Beau's, a coffee shop in Wilmington, North Carolina that is staffed by people with intellectual or developmental disabilities (IDD) like autism or Down Syndrome. With a joyful environment that's full of love and support, it's no wonder that the shop's founder, Amy Wright, finds it hard to leave.
"People ask me if I go to work every day," Wright says. "I say, 'No, but I wish I could.'"
Wright and her husband, Ben, are the parents of four children, including two who have Down Syndrome—Beau and his little sister, Jane Adeline, or "Bitty." The children are the namesake of the coffee shop, which the Wrights launched in January 2016.
The family opened the shop in response to an upsetting stat: Only 20 to 30 percent of adults with disabilities are employed. Amy says she wanted to provide an opportunity for a better future not only to her children but anyone living with IDD.
In this episode, you'll hear about the "Aha!" moment that led her to create Bitty & Beau's—and the odds-defying young boy who inspired her to start it. You'll also hear from an employee who says working there has changed his life for the better. By the end of the show, you'll be more able to see the often-missed gifts and talents of the disabled, and see why the fastest-growing coffee shop in the Carolinas is also the most inspiring.
Want to hear another podcast with an organization doing great things for disabled kids? — Check out our profile of Magic Wheelchair. It started with a Dad who wanted to make his disabled son smile, and turned into a non-profit that delivers truly epic Halloween costumes to wheelchair-bound kids with the help of Hollywood special effects designers. You'll smile, you'll cry (we did), but above all you'll love listening to this story.