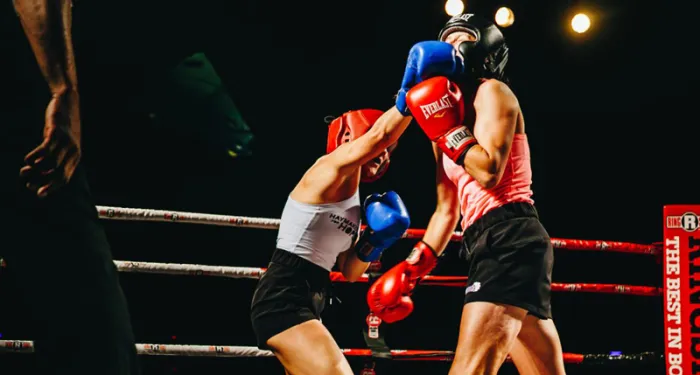 Oct 23 | 2018 | Season 3/Episode 22
Andrew Myerson and Julie Anne Kelly
To Stand Up to Cancer, They'll Get Punched in the Face
Haymakers for Hope trains regular people for boxing matches that have raised millions for cancer charities. Meet 4 people crazy enough to step into the ring.
What would make you OK with attacking — and being attacked by — someone else?
What would it take for you to say "yes" to getting punched in the face?
For each man or woman who's competed in a charity boxing match put on by Haymakers for Hope, the answer is different. But they're all driven by a common goal: To deliver a knockout punch against cancer.
In this episode, you'll hear from four people who've stepped into the ring and fought with Haymakers for Hope. They include founders Andrew Myerson and Julie Anne Kelly.
Kelly is a former New York City Golden Gloves boxing champion who also fought Hodgkin's Lymphoma at age 22. Myerson, meanwhile, had just lost a close friend to cancer when he set out to train for his first boxing match. In the months that followed, they came up with a "crazy idea" — one that's since raised more than $10 million for cancer-fighting causes.
Fighting the Good Fight
To date more than 580 fighters have participated in Haymakers for Hope. Often the competitors in these matches have no prior fighting experience at all. They're in for at least four months of grueling training.
"It's not a street fight," Myerson says. "We connect people with top-notch boxing gyms in the cities we work in. These people get trained. They learn the sport. There's a big physical element, but there's also a big mental component."
Some of those fighters have a deep personal connection to the cause, like Nicolette Deveau. She lost her son Reggie to a rare form of cancer in 2011. Three years later, she fought in Reggie's honor at a Haymaker's event in Boston.
"It changed my life," Deveau says of her fight.
During this show you'll also meet Greg Wetzel, who's scheduled to fight in an event in New York City this November. Wetzel was already a lifesaver before he signed up to fight with Haymakers. In 2012 he jumped onto the tracks at a New York City subway station to rescue an unconscious woman. Find out why the challenge ahead for him may be even greater. Listen now.
In this episode, you'll also hear about:
Frank's experience as a boxer growing up
How Haymakers for Hope founders Myerson and Kelly first met
The surprising thing that happened in Haymakers' first fights
"We vastly underestimated how much our friends liked to see us get punched in the face"
The moment when Myerson left his job and risked everything for Haymakers
The harsh reality the organization ran into early on — and how they overcame it
Julie's fight with Hodgkins Lymphoma at age 22
The rewarding feeling of being able to hit back against cancer
"It's like a crazy car accident that you can't help but stare at, except you want to be involved."
What happens during four months of training
How it feels to step in front of 2,000 people on fight night
Building a community of "ass-kicking do-gooders."