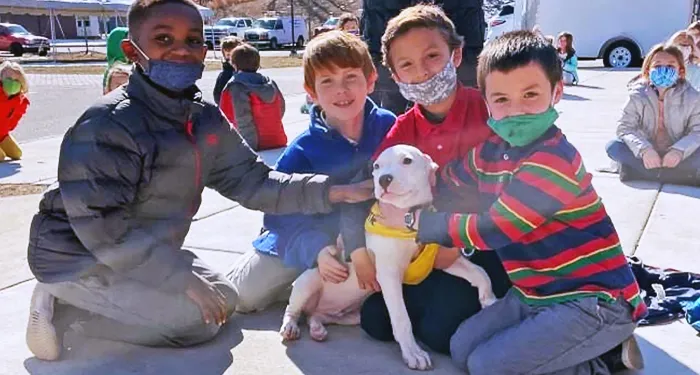 Dec 15 | 2022 | Season 7/Episode 11
Multiple Guests
Crazy Good Heroes of 2022: Some People Who Made This a Great Year
Stories of life-saving rescues, clever innovations, and creative ways to give. Meet 6 people who set a great example in 2022.
Description
Highlights
Transcript
The stories in this episode start in front of a burning house and end at a medical school in Rwanda.

During the 30 minutes in between, we'll introduce you to six people who changed the world for the better during 2022 — each in their own unique way. They include…

The Daring Rescue: Nick Bostic was a pizza deliveryman out for a drive when he spotted a house fire with children inside.

"Above and beyond" doesn't begin to describe what happened next.
Kids Saving Dogs: An idea strikes second-grade teacher Kensey Jones late one night.

Could her students help save the lives of shelter animals that need a second chance?
Veterans Turned Entrepreneurs: U.S. Marine Josh Himan overcame major injuries he suffered in Iraq.

Now he's partnered with the vet who helped him learn to drive again to bring more freedom to vets and civilians with mobility challenges.
Gifts That Keep Giving: Rhiannon Menn and her young daughter set out to make meals for neighbors in need. They wound up starting a campaign that's fed millions of Americans.
A Lifetime of Service: Dr. Paul Farmer challenged the status quo and changed the way the healthcare establishment serves impoverished nations. He passed suddenly and tragically in 2022.

His longtime friend and mentee Dr. Sri Shamasunder joins us to talk about Farmer's life and legacy.
You should tune in…
To be inspired and see more of the good out there. The state of the world can seem pretty dire at times.

These stories remind us that there are truly great people in this world doing awesome things for others. We can be all encouraged by that.
To learn. A throughline in the Crazy Good Turns series is learning what makes people tick.

What's inside them that leads them to take great risks or work tirelessly on behalf of others, perhaps even someone they don't know?
To not forget. When acts of great bravery or generosity happen, they (hopefully) are acknowledged. But even when they are, too soon, the work is forgotten and time marches on.

However, some stories, like the story of Dean Wells, are too good to forget.
So in this show, we hope you'll agree that the stories are too good to leave behind as we move into a new year.

A stranger driving in the night risks his life to rescue children (8:23)
Delivering delicious comfort to anyone struggling, no questions asked (23:20)
Schoolchildren turn a writing assignment into saving (furry) lives (12:54)
Two veterans joined forces to help others get on the road (20:20)
The doctor and humanitarian who changed the way the world sees healthcare (30:16)
Want to see some of our favorite quotes from guests during 2022? Check them out here.
FRANK BLAKE: Just after midnight on July 11, Nick was driving down in Lafayette, Indiana, when he saw flames leaping out from a house nearby.
Minutes later, here is what happened.
That's the sound of Nick carrying six-year-old Kaylani Barrett to members of the Lafayette Fire Department who were on the scene. He spoke with me about what happened.
Here is his story.
NICK BOSTIC: I went out for a drive that night and on my way back home, I seen the house was on fire
I'd only seen flames. I only seen a single flame that was three foot tall and maybe two feet wide.
FRANK BLAKE: And you said, "I got to do something?"

Were there people calling out to you? Did you know that there was anyone inside the house?

NICK BOSTIC: No. I just took a shot in the dark. When I went around the side of the house and I went to the back door and opened it
FRANK BLAKE: Nick, could I pause you just there?
Because I think a lot of us, a lot of the audience listening might go, "Gee, if I went to the side of the house and yelled in and no one responded, I might be inclined to say no one's there."
NICK BOSTIC: That ran through my mind.
FRANK BLAKE: But you didn't, you kept on going.
NICK BOSTIC: I wanted to know for sure that it was safe until I felt like I couldn't stay in there no more.
FRANK BLAKE: Inside there were five kids and-
NICK BOSTIC: Four kids and one 18 year old.

The 18 year old had scooped up the baby, the two-year-old already. And then the two 14-year-olds were all upstairs.
They came out all at the same time, out that door, out of their bedroom.

I was doing a windmill, stringing, strumming your air guitar look. Yelling, "Get out, your house is on fire."
FRANK BLAKE: And then you had to go back for the six year old.
NICK BOSTIC: I had to go back for the six year old-
I went in there and I wasn't intending on coming out by myself and if I was coming out, it'd be me dead or alive with that child alive. That was the goal.
If she wouldn't have been crying out, I wouldn't have found her. And I don't think I would be alive either because I found her pretty quick.
She was just right around the corner at the bottom of the stairs, maybe four feet out and I found her and I could just see the light from the lights in the stairway, going up the staircase.

FRANK BLAKE: You found her and now you have to get out of the house. What was the escape route out of the house?

NICK BOSTIC: I'd seen a window in the first room. One of the rooms I'd looked in the bedrooms in it. I knew it was on a side that didn't have the fire started on it.
But when I got to that window and we were getting out, I was punching it out. There was some fire blowing from the wind.

The flames were going across the window from one side to the other horizontally.
FRANK BLAKE: You broke the window and then had to jump out of it?
NICK BOSTIC: I jumped out of it. I wasn't sure how I jumped out of it, but the neighbor across the road informed me that I went shoulders first.
FRANK BLAKE: Wow. There's video showing you running from this burning house with the child, the six year old carrying her like a football.
Did you know she was fine? Were you worried?
NICK BOSTIC: I was worried. I didn't never have no time to check if she was all right, but my 100% concern was the child.
I made sure that I was the cushion that she landed on. I didn't care what happened to me.
FRANK BLAKE: How long were you hospitalized?
NICK BOSTIC: I only let them keep me there for two days before I was trying to get out. I don't like staying in hospitals. I got stuff to do.
FRANK BLAKE: Nick, it's a great inspiration. It really is. You've set an inspiration for a lot of people and you're very humble about it. It's easy to say it was just a matter of doing the right thing, but I got to say a lot...
There aren't many people I think who would just by instinct run into a burning building. That's pretty extraordinary.
NICK BOSTIC: Thank you, sir.

FRANK BLAKE: Nick's example is indeed incredible. But you don't have to leap from a burning building to be a hero.

In fact, a group of second graders recently learned that they too can save lives, maybe in a less dramatic way.
And they were armed with nothing more than their pencils.

There are at least 4 million shelter animals in need of adoption each year, according to estimates.

This past winter, teacher Kensey Jones and her students gave some of those animals a voice to help them find a good home.

Here, Kensey shares the story of how a clever idea turned into a life-saving campaign for two dozen dogs and cats.
KENSEY JONES: Ever since I was a young child, I've rescued animals. I used to bring stray kittens home and try to convince my parents that we should keep them.
I currently have three rescue dogs and one rescue cat.

I also have two reading tortoises that I have in my classroom that then children read to every Friday.

The dogs all have special needs as does the cat. I'm kind of a sucker for helping the ones that seem the most needy. I have two dogs that each have three legs and then one dog who unfortunately spent the first year for life tethered to a tree and abused. So we have welcomed those three into our home.
The joke is that we have three dogs, but they only have 10 legs.

FRANK BLAKE: Late one evening, Kensey was thinking through her lesson plans when an idea struck.

The idea: What if her students wrote letters on behalf of shelter animals, to help them get rescued?
KENSEY JONES: I sent an email to Christie Peters, who is the director of Richmond Animal Care and Control to tell her about my idea, and I remember mentioning in that email, "You may think I'm crazy, but hear me out. Would you all be willing to do this?" And she said, yes, thankfully.
Christie brought in an adoptable puppy from the shelter and spoke to the children outside at our school about Richmond Animal Care and Control, and talked about what they do for our community and why communities need animal shelters so that the children would fully understand their task.
After that, we took a virtual tour using social media outlets to see the inside of the shelter, to meet the puppies and dogs and one cat that the children would be writing about,

FRANK BLAKE: Kensey's students wrote letters and drew pictures of the animals. The kids tried to channel the dogs' personalities. Here's Kensey reading a sample letter:
KENSEY JONES: This is about a dog named Famous Amos, and it says, I like this one because there are a lot of questions in it.
"Hi, I'm famous Amos, please, please, please adopt me. I love belly rubs. I'm a very cute dog. Don't you love my name? Am I a very cute dog because I think I am. Do you love me? I hope you do, because then you can adopt me. I love you too. Take care of me and take me to a good home."
FRANK BLAKE: The kids in Kensey's class actually worried whether their letters would be good enough. Each day they asked for updates, wondering whether their animal had been placed.
KENSEY JONES: I did hear from many of them that they didn't think it would work, that they didn't think they could write letters and actually get an animal adopted.
So when it really did happen, when the animals started going home one by one quickly, day after day, they became extremely proud of themselves.
By the end of May, every single one of the animals had found a forever home.
FRANK BLAKE: Kensey says she plans to repeat the project again with her new class this year. And she's heard from other teachers around the country who'd like to do the same.
KENSEY JONES: Other teachers have emailed me. There is a man who lives, I think in Williamsburg, who actually created a Facebook page about this project for teachers to look at, and I sent him a quick lesson plan of what I did so that other teachers can grab it and go with the idea.
I'm hoping it will catch on everywhere.
FRANK BLAKE: If the idea does spread, it could help a lot of animals find a place to call home. And Kensey says children learn an extremely valuable lesson in the process.
KENSEY JONES: I learned that kids have the power to change their community, and I think deep down I knew that, but then actually seeing this happen really meant a lot to me, that I could show them through their actions that they actually did make an impact in their community.
FRANK BLAKE: For anyone interested in setting up a letter writing campaign with their local animal shelter, we'll have a link to the resources Kensey mentioned on our website.
You'll find them at crazygoodturns.org/heroes2022.
Now we'd like to ask you a question: What would your life be like if you couldn't drive?
Try and imagine it for a moment. Most of us depend on our cars to get to work, to get our kids to school, or to get food from the grocery store.
And right now, there are tens of thousands who are unable to drive because of injuries, diseases or other issues.
Josh Himan understands this issue all too well. In 2009 he was serving with the U.S. Marines in Iraq when an explosion left him gravely wounded and unable to walk.
His recovery took years, including nearly half a dozen before he could return to driving.
That's why his new mission is to bring the gift of mobility to those thousands of Americans - military and civilian alike - who face mobility challenges.
To do it, he has teamed up the person who helped him return to the road, fellow veteran Tammy Phipps.
In our next segment, Josh and Tammy share their story.
JOSH HIMAN: I live about 20 minutes from the Pentagon, and during my senior year of high school, we experienced 9/11. 9/11 was a pretty traumatic experience for me and I felt the calling to join the Marine Corps, and during my deployment we rolled over an IED and I was ejected from the vehicle.
I sustained multiple spinal cord injuries.
As bad as my injuries were, I always have to remember that there were 14 men in my battalion that gave their life. Before I started feeling sorry about myself, I can always remember them, and they were really the true heroes.
FRANK BLAKE: Josh spent months recovering from his injuries, which left him paralyzed from the chest down. While recovering at Walter Reed, he met rehabilitation therapist Tammy Phipps.
TAMMY PHIPPS: From injury to driving independent, it was almost four years for Josh.
To give you an idea of how efficient this process can be, as long as you have all the pieces, parts, funding, et cetera, Josh really should have been driving certainly within the first year and been able to do that independently.
FRANK BLAKE: Tammy had developed and created the very first return-to-driving program for the Department of Defense. While at Walter Reed, she also served more than 400 soldiers.
She saw firsthand how people who aren't given the right resources take on unnecessary risks.
TAMMY PHIPPS: when I started at Walter Reed in 2008, we would have amputees sharing the primary control, so one amputee on the floor doing gas and brake, and one doing steering. I promise you, it had happened.
I could tell you more crazy stories, but why did they do that? Because they wanted to get off base, because they wanted to live their life.
They wanted to participate in whatever was happening in the community, and so they just did it.
FRANK BLAKE: Tammy made improvements to the driving program to make it faster and more efficient. She realized that she could help even more people as a civilian.
JOSH HIMAN: When the wars died down, she talked to me and said, "Hey, I'm thinking about a private practice."
We were really blessed to have her during the time of us combat injured veterans, but I knew that there was so many more people out there. There was tons of quadriplegics and people that, my condition and worse.
Basically we got together and I was like, "You know what? I don't think me giving you tips is going to be enough. I probably need to become a partner in this, because that's the time commitment.
TAMMY PHIPPS: We opened business, we're in Chantilly, Virginia, which is northern Virginia, so the DC metro area.
We had no idea how many people, but we have seen in the last six years, coming up on around 2,000 people.
We work with anyone who has a disability or medical diagnosis that could impair driving, from the beginning of driving age, so age 14, all the way to retirement from driving, whatever that looks like towards our later years in life.
JOSH HIMAN: I would say this, we should have a DRCE in every major city in America. That's pretty much what's needed.
FRANK BLAKE: Today the Driver Rehabilitation Center of Excellence is expanding. They recently opened a center in Columbus, Ohio. And they continue to serve both civilians and soldiers.
TAMMY PHIPPS: Just a quick example. I had a lieutenant that was injured 10 years ago, lost both of his legs in Afghanistan, from Wisconsin, and he's been driving with a broomstick.
a military nonprofit organization from Wisconsin kept him here for three or four days, and then from that point we were able to put the entire project together for him.
JOSH HIMAN: When a person comes under DRCE, they know they're going to get taken care from
Our goal is not to just say you can drive again. It's to actually go through and get you back driving.
I'm a very, very lucky guy be alive and I really wanted to help this business in honor of the, like I said, the 14 men that gave their lives during our mission over there.
I hope they're proud looking down.
FRANK BLAKE: For more on Josh, Tammy, and the Driver's Rehabilitation Center of Excellence, visit www.driverrehabcenter.com.
In our next segment, we'd like to introduce you to Rhiannon Menn.
Rhiannon is a mom, like so many of us, who felt frustrated and helpless during the COVID-19 pandemic.
With the disease, and the lockdowns that followed, what could one person do to make a difference?
For Rhiannon, the answer was: She could cook. Knowing that people in her community were stressed and stretched thin with working from home and homeschooling kids, she decided to make lasagnas for anyone who needed it, for any reason at all.
The idea took off, and soon others wanted to help. Today her organization, Lasagna Love, is responsible for more than a quarter-million meals made and more than one million Americans fed. Here is her story, in her own words.
RHIANNON MENN: I'm Rhiannon Menn, I'm the founder of Lasagna Love.
So we have volunteers who love to cook and we have recipients all over the country who will sign up for any number of reasons, because they could use some kindness in their life, and they'll get matched with a local volunteer who will deliver a home cooked meal, usually lasagna, to their doorstep, no questions asked.
FRANK BLAKE: Rhiannon says the idea for Lasagna Love came to her during the pandemic. When the lockdowns started and people were isolated, she wanted to help. But didn't know how.
RHIANNON MENN: I felt incredibly helpless and I was looking around in my community for volunteer opportunities and we were living in San Diego at the time and everything shut down.
And so we had two little kids to entertain and I love cooking, it's what gives me energy and happiness and I love sharing food with people. And I just decided that I was going to start making meals and finding people in the community who could use them for whatever reason that might be.
FRANK BLAKE: It started with just a couple of lasagnas. Then a couple more. She let people know the food was available on social media. And soon others took interest.
RHIANNON MENN: I never actually looked for volunteers. When I posted, I looked for families that needed the help. And then a few weeks in, I started getting messages from mostly moms, 'cause I was posting in moms groups saying, "I don't need a meal, but I would love to cook if there are enough families to go around."
And so I just said, "Why not, sure, anything's possible."
FRANK BLAKE: Rhiannon kept track of cooks and deliveries with a spreadsheet - one that just kept getting bigger and bigger.
RHIANNON MENN: I got emails saying, "Hey, could I start this in northern California? Could I start it in Iowa and Texas and Florida," and I just always said "Yes," and figured it out as we went.
I think there's a moment when I realized that this was more than just me and a group of people making lasagnas occasionally.
I think that was September of 2020 when we were blessed to be invited to be on the Today Show. And within a month we had gone from 500 volunteers to 5,000.
FRANK BLAKE: Rhiannon says her organization has delivered more than a quarter million lasagnas to date, feeding more than one million Americans. She says there's something special about the dish, well, I don't know.
Maybe there's something special about her.
RHIANNON MENN: I could have chosen any kind of meal.
But to me, lasagna really communicates this feeling of love and comfort. It's the comfort meal you bring to somebody when they've had a baby, when they've lost somebody they love, when they're going through something.
Lasagna just kind of makes sense. It's cheesy, it's warm, it's delicious.
I wanted to deliver that warmth and that comfort and something that says, I put love and time and effort into this because I care about you, even though I don't know you, and here it is.
FRANK BLAKE: If you like to cook and want to get involved with her organization, Lasagna Love, go to www.lasagnalove.org.
Finally, I'd like to close with a reflection on the life and work of Dr. Paul Farmer.
It absolutely is not an overstatement to say that Dr. Farmer changed global health care. Beginning as a medical student volunteering in Haiti, Dr. Farmer went on to found Partners in Health, which today employs more than 18,000 health professionals working to improve the quality of healthcare around the globe - in fact, in some of the most difficult places on this earth.
Dr. Farmer died this past year. On February 21, while working at the University of Global Health Equity in Rwanda, he passed away in his sleep.
Our next guest, Sri Shamasunder, was with Dr. Farmer in Rwanda just a week before he died.
Sri sat down with us to tell us about what it was like to spend time with Dr. Farmer, and how his legacy will continue to shape health care for generations to come.
SRI SHAMASUNDER: I was in undergrad in the late nineties, early two thousands.
And Paul Farmer, as some of your audience might know, had a book written on him in 2003 called Mountains Beyond Mountains that really catapulted him to very well known status, especially in global health.
But at that time in 1998, 1999, he was under 40. He was this doctor that was splitting his time between Boston and Haiti, and he was spending a lot of time taking care of very poor populations in Haiti.
I remember sitting in that church in 1998 or '99, and he just had such a clear moral vision of what he was trying to do. And you could see the joy and the purpose.
I think when you were in his presence and the work that he was doing, there was this sense that you wouldn't want to do anything else in the world.
What possibly else could be more important than taking care of poor patients, advocating with them, alongside them, accompanying them.
There was this sense that this is the place that you want to be in the world. And I think Paul Farmer embodied that.
FRANK BLAKE: So for our listeners, they should know that Sri also inspires the same feelings In others because we came in contact the mutual friend who just said, "You've got to meet Sri. One most inspirational, amazing people in the world."
And how do you see what you're doing as continuing his legacy, building off of his legacy? How do you see that?
SRI SHAMASUNDER: I think if you follow the trajectory of Paul Farmer as an academic, a scholar, as an activist, as a physician, he published so much during his life and he was such a scholar, so in some ways, the path forward for a lot of us is written down, which is I think is a huge boon for us.
He always said the conversation cost effectiveness, too expensive. It should be the beginning of the conversation and not the end of the conversation.
And so some of this just saying, "What is normal at this moment? And what should we not get used to? What are the outcomes and the suffering and the stupid deaths."
He used to call them stupid deaths where we know the cure, we know the treatment, but because we lack the collective commitment and power and our institutions are failing us, that we accept the death from HIV or TB.
And so I think what Paul Farmer's, one of his legacies and as a physician, is all the things that our eyes get used to his eyes would not get used to and would say that this is unacceptable outcome.
FRANK BLAKE: And as you look out towards the future, and obviously a future without all Paul, do your thoughts tend towards optimism? Do your thoughts tend to go, "My gosh, I don't know if we can ever get to the point where we need to be on providing healthcare to our world's poorest?" How do you look at that?
SRI SHAMASUNDER: I think what he did is we make the road by walking it, and he really created this pathway for just thousands and thousands of people around the world that are walking the path that he embodied so well. And so I think it's this conversation about global health, around health equity.
And he was doing it in Rwanda when the last week that I spent with him at the end of his life.
There's this phenomenal university with a cohort of Rwandan medical students whose parents have lived through the genocide that are having a free medical education.
I spent a week teaching them, and they are as brilliant as any students I've come across from UCSF to Harvard, and they're going to be the next group of people taking care of very poor patients in Rwanda. And he helped support that. It was his vision to create a world class university in rural Rwanda.
And so I think from Boston to San Francisco to Rwanda to Mexico, there's just legions of us that are kind of walking the walk that he did. And so that encourages me.
FRANK BLAKE: Sri, I can't thank you enough for giving us our listeners some of your wisdom. Also, can't thank you enough for what you do every day, helping those who really need medical assistance and just as you said about Paul Farmer, the openness of your heart and maturity.
So thank you very much for doing this.
SRI SHAMASUNDER: Thank you for having me. And thank you for this podcast that elevates all of these voices.
From Frank Blake
My Sincere Thanks
Because of listeners like you, our show now ranks among the top 5% of most-downloaded podcasts by volume per month.

Your support has helped take our little idea to celebrate generosity and good deeds, and turn it into one of the most listened-to podcasts available.

Thank you for being part of a community that celebrates people who do good things for others.

Your giving of your time to listen to these interviews, and acknowledging those good deeds, is a crazy good turn of its own.

Please help us continue to grow by subscribing on your preferred podcast platform.

And please, help us spread the word by sharing our show and website with friends.