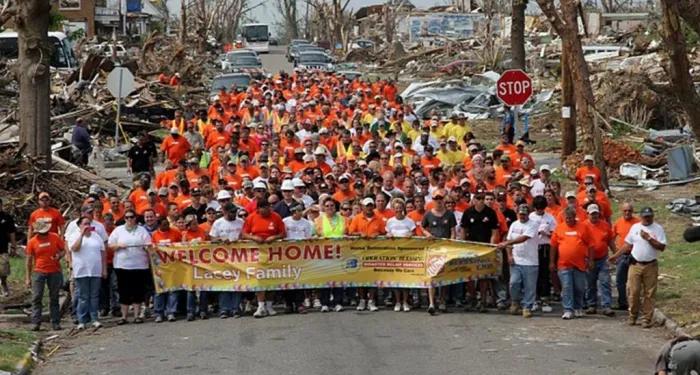 Jan 23 | 2022
Remembering Dean Wells
In the business of our daily lives, we so easily forget acts of great kindness or heroism.
We try to avoid this. Our calendars come with reminders to pause, reflect and honor certain people, like Veteran's Day or Memorial Day. And I think all of us have personal days of remembrance. For some it may be 9/11 or, a generation ago, December 7. For others it may be the day a loved one passed away.
Still, other memories are tied to events that continue to happen all the time. In my case, whenever there are tornadoes - especially catastrophic ones like those that recently struck Kentucky and Tennessee, I think of Dean Wells.
'He Put Others in Front of Himself'
Dean Wells was 59 years old and a master electrician.
He was also a soldier who'd served 10 years in the U.S. Army, a husband for 42 years to Margaret Sue, and the father of two daughters, Paula and DeAnna. He was known for his ability to whistle and sing with his church choir.
In 2011, Dean was head of the electrical department at The Home Depot in Joplin, Missouri.
"He was a great guy, always put others in front of himself," Steve Cope, who was store manager, told the Joplin Globe. "He was a very good employee, ran a very good department. He had the respect of the employees that he supervised."
Dean was in the store on May 22 of that year, when an EF-5 tornado bore down on Joplin.
Racing Against the Storm
In Home Depot stores, as in other "big box" stores, there is a break room typically located in the back of the building. As the name implies, the break room is where employees gather during lunch and other breaks. It is also the safest area of the store during a storm.
When weather conditions worsened, the store management team swept the building to direct everyone inside back to the break room.
Dean helped move customers and co-workers into the break room over and over. Reports later estimated that he helped guide 40 to 50 people into the break room that day.
Meanwhile, the tornado outside had reached more than half a mile in width, with wind speeds exceeding 200 miles per hour.
After Dean guided so many to the shelter of the break room, and with the storm quickly approaching, a truck hurriedly pulled up in front of the lumber entrance.
Inside the vehicle was a father and his two young children.
Dean did not know the family. But upon seeing them, Dean left the safety of the break room and rushed to help them. He was guiding them toward the break room when the storm hit the building.
On impact, the walls collapsed. Dean, and the family he was trying to save, died.
Everyone who Dean had helped to reach the break room survived.
Where Does Heroism Come From?
I attended Dean's funeral in Joplin. It was a very emotional day. His wife played a recording of Dean whistling Amazing Grace. And while Dean very much was a hero, during the service he was not described in grand or valiant terms.
Instead, people there spoke of Dean's kindness, his caring, and how he was a "great guy who always put others ahead of himself."
Perhaps that is the best definition of heroism.
I once read a story — it sounds apocryphal — about a people who worshiped a sundial. In their worship, they built a structure around it, complete with a roof that blocked out the sun.
We too often build structures for heroism that obscure the source of its strength and wonder.
What makes someone like Dean do what he did? Why are some so willing to put themselves at risk for others, including people they do not know?
I don't know the answer. I believe it starts with thousands of smaller acts, and with a love of crazy good turns and of those who do them.
I hope I would have had the instinct and courage to do what Dean Wells did that day in Joplin. I can't say for certain that I have that in me. Who among us can?
So on behalf of all of us left in your admiration: Thank you, Dean.
(Photo: In Dean Wells honor, some 300 volunteers from The Home Depot traveled to Joplin to help families recover. Image courtesy of Missourinet.com)