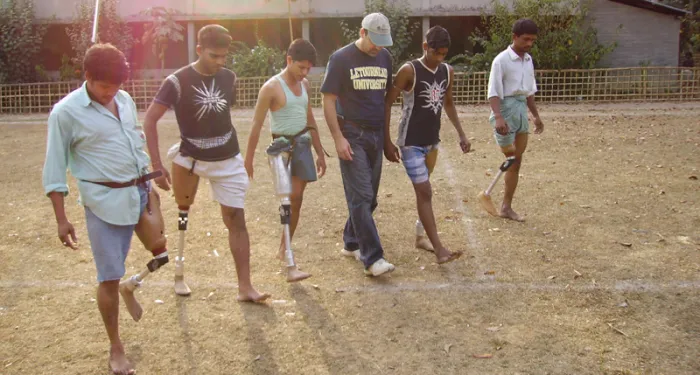 Nov 20 | 2018 | Season 3/Episode 24
Roger Gonzalez
LIMBS International Makes a Difference for Amputees Around the World
Of the 30 Million amputees worldwide, only 5 percent have access to prosthetics. A professor in Texas sets out to change that, one step at a time.
It could have been him.

That was the thought going through the mind of young Roger Gonzalez. He and his father had taken a trip from El Paso, Texas to Juárez, Mexico.
There, Gonzalez saw a boy his age — about 10 years old or so — with deformed lower legs pushing himself in a cart, trying to keep up with the other kids.
"I looked at him and I thought, 'You know, he's just my age and I'm able to run and to walk and he's only able to just sit there," Gonzalez says. "It really impacted me. I thought, but by the grace of God, that'd be me sitting there. So that was really the inception of me having more of a heart for those who are disabled around the world."
A Global Issue
The experience stuck with Gonzalez throughout his life, as he became a professor, earned tenure, and ultimately became a department chair of Engineering at the University of Texas in El Paso (UTEP).
The problem Gonzalez happened upon as a child is much larger than he knew at the time. It's estimated that there are more than 30 million amputees worldwide. Only about 5 percent of them have access to prosthetics.
In 2003, Gonzalez set out to change that. He hand-selected four students and set out to come up with a solution that could be shared with amputees around the world. Their work became LIMBS International, a nonprofit that in 15 years has provided prosthetics and community training to people in more than 50 countries. (You can see some of those people at this link.)
In this episode, our host Frank Blake sits down with Gonzalez and Juan Acosta, a physical therapist and volunteer for LIMBS. They talk about their work around the globe, and what it's like to give someone the ability to walk again.
Let's Celebrate…Those Who Make a Difference. This episode is brought to you by the TIAA Difference Maker 100.
For 100 years, TIAA has been a different kind of financial services company, serving millions of people who have dedicated their lives to serving others across the academic, research, cultural, medical, government and nonprofit fields.
TIAA is commemorating its centennial by celebrating the people who have inspired others and made a positive impact on the world.
On October 1st, TIAA announced 100 Difference Makers with a $10,000 donation in their name to support the nonprofit where they make a difference - that's 100 donations, totaling $1 million. The guest in this episode, Roger Gonzalez, is a recipient of one of those awards.
TIAA also held a companywide "100 Days of Difference" campaign through which TIAA employees participated in 341 projects touching close to 700,000 lives across the country.
If you want to learn more about the Difference Maker 100 program, take the interactive TIAA Difference Maker Quiz to find out what type of Difference Maker you are, or see the inspiring stories of Difference Makers around the country, visit their website at www.tiaadifferencemaker100.org
*Note: Photos # 8 & 9 below by Billijs Locs