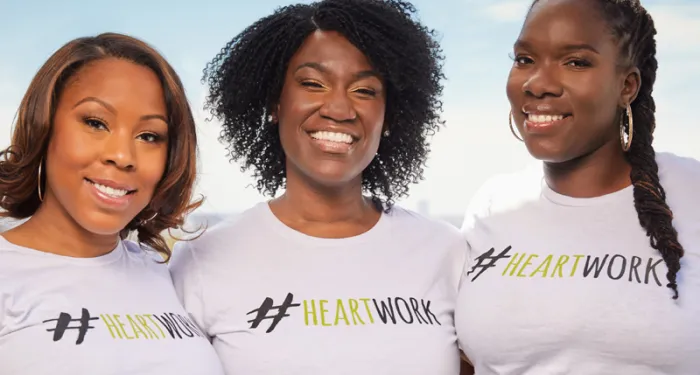 Oct 9 | 2018 | Season 3/Episode 21
Shared Harvest Fund
These Women Have a Clever Answer to the Student Loan Crisis
And their unique approach to student loan relief is working. It's called Shared Harvest Fund, and it's helping graduates pay off loans through volunteer work.
It's a bad situation that too many good people know all too well.

You work hard for years. You do all the right things. You study and stay out of trouble. And what's your reward?
A degree — and a mountain of debt.
There's never been a greater need for student loan relief than there is right now. In the U.S. alone, it's estimated that the total student debt people are carrying is more than $1.5 Trillion.
(Yes, Trillion with a "T.")
The three women you'll meet in this episode — NanaEfua Baidoo Afoh-Manin, Brianna DeCuir, and Joanne Moreau — know this all too well.
All three are doctors. They graduated from prestigious universities that taught them how to save lives in emergency rooms. But in order to do it, they had to rack up six figures in student loans.
So NanaEfua, Brianna and Joanne acutely understand the debt struggles many people face after college.
Like many others, they realized how much the debt would limit their options. For NanaEfua, what bothered her the most was how those obligations would prevent her from giving back to the community in the way she wanted.
"The typical course of things is that you are working, working, working until you pay off your debts, and then live your good life and give back to the world," NanaEfua says. "But that's so much life. And life is not promised to you."
A Clever Solution to Student Loan Relief
As you'll hear in this episode, while she was studying for her boards, NanaEfua had an "aha!" moment — one that led her, Brianna and Joanna to create Shared Harvest Fund.
The organization helps graduates pay off their loans by combining
People with student debt
Charitable organizations who need help, and…
Funders who underwrite relief on the student debt in exchange for volunteer work.
For example, in this episode, you'll meet Steven Bertrand, a Shared Harvest Fund "Debtfreelancer" (their term for people volunteering away their student debt).
Steven is a graphic designer. He spends hours every month helping an organization that desperately needed graphic design help.
Now he's using his skills, making connections, and making a difference — all while paying down his debt faster than he'd be by writing checks for the monthly minimum.
A Creative Idea from Crazy Good People
Shared Harvest Fund is a very creative use of a digital platform. But it's story is something even greater.
The real story hear is of three female doctors who, very early in their careers, are taking time and resources from their own battles with debt to create an organization like this
"My husband asked me, 'Let me get this straight: We're going to put ourselves further into debt so we can help other people get out of debt?" NanaEfua recalls with a laugh. "But he got it."
In this episode you'll get the story of how it all happened. You'll also hear…
How NanaEfua came up with the entire plan — in less than 4 hours
What it's like to fight with credit collectors at age 10
The West African roots of the organization
The psychological consequences of debt
"I didn't know we were poor, but I never felt poor."
The health benefits of volunteering
The difference between giving back money and giving back time — and why the latter is so much more valuable to everyone involved