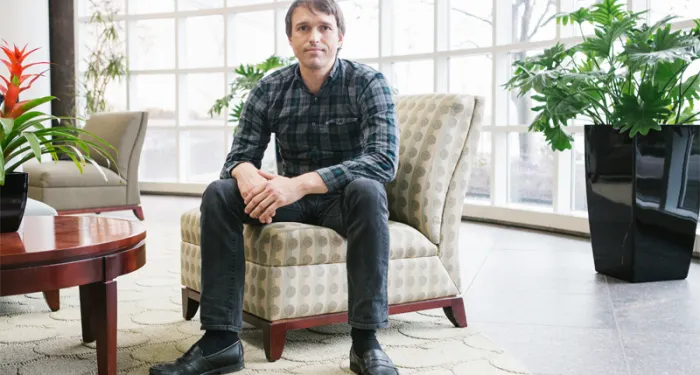 Feb 13 | 2018 | Season 3/Episode 3
Ernie Dianastasis
The Precisionists
At The Precisionists, an IT company in Delaware, autism is an asset.
Not every podcast episode will make you look at the world differently. This one might.

Why? Because in this show you'll learn about a concept that's changing the way people view the autism spectrum. The idea is called "neurodiversity."
While neurodiversity may sound complex, the idea behind it is as simple as it is true: people are wired differently. People on the spectrum are neurodiverse, while those who are not on the spectrum are known as neurotypical.
In this episode you'll learn more about how it works, and meet a company that's using the idea to create jobs. We travel to Wilmington, Delaware and step inside the headquarters of The Precisionists, Inc. (TPI) It's an IT company where you'll find very bright employees who are amazing with numbers and data — and virtually all of them are on the autism spectrum. Led by founder Ernie Dianastasis, the startup already employs about 40 people — and wants to provide jobs for 10,000 people on the spectrum by the year 2025.
That's a worthy goal, because the unfortunate truth is that — right now — people on the autism spectrum are subject to higher rates of unemployment. Nearly half of all young adults with autism are unemployed. Often, they get screened out by old-fashioned interview processes that fail to recognize their talents. Dianastasis says that, not only is that a shame, it's a huge missed opportunity.
"At the end of the day, how someone shakes your hand or whether they look you in the eye or not has no bearing in terms of whether they're going to be strong performers in a technical job," Dianastasis says. "These individuals perform phenomenally."
But this isn't just a story about work, or about outlook. It's about people. Early in the show, you'll meet Michael, an employee at TPI whose experience has been nothing short of life-changing. Find out what he discovered when he took a chance on TPI. And to meet more people from the neurodiverse crew at the company, check out this photo gallery.
For more on Neurodiversity….
And of course, start the episode now. We hope you'll enjoy it.