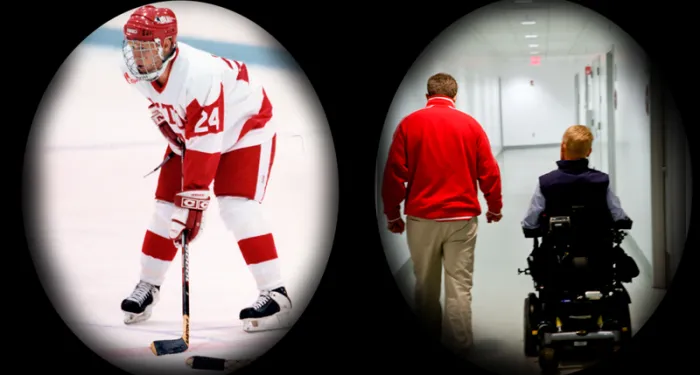 Mar 13 | 2018 | Season 3/Episode 5
Travis Roy
How a Paralyzed Athlete Refused to Lose
All of Travis Roy's dreams ended in an instant…or so he thought. Find out how a former hockey player turned his own tragedy into triumph–and became a hero to hundreds who've suffered severe spinal cord injuries.
There's an old saying in sports that the best athletes "refuse to lose." In this episode, you'll meet a former athlete who's lived that to the letter-even as a twist of fate took almost everything from him.

Travis Roy was a hockey standout with a promising career ahead of him. But then everything changed in an instant. A tragic accident left the talented young hockey player paralyzed from the neck down. But Roy refused to let his story end there. In fact, as you'll hear in this show, it was just the beginning.
Today the Travis Roy Foundation helps the fight against severe spinal cord injuries on two fronts.
First, it funds a tremendous amount of research. Roy aspires to regain many of the abilities that were taken away from him that fateful day, and his organization is putting their money where their mouth is.
Second, it offers direct assistance to the injured and their families. Because as you'll hear, they face high costs and steep daily challenges in their recovery. But you'll also see how that, for people like Travis and Les Foster (a recipient of a grant from Travis's foundation), the only thing that's tougher than the road they face is their resolve to overcome.
Let's Celebrate: The little moments that matter most. The people you meet in this episode will give you a