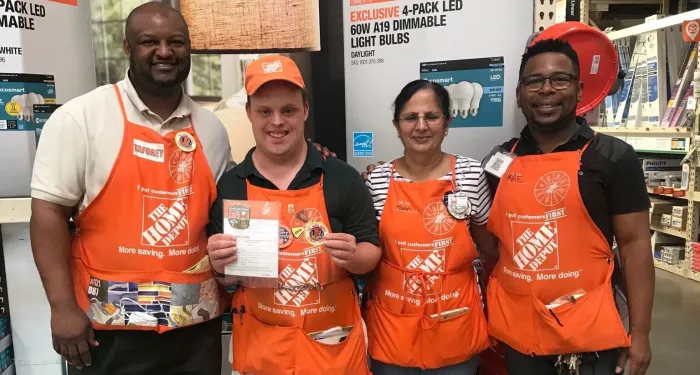 Mar 21 | 2023
Celebrate World Down Syndrome Day: Ken's Krew, GiGi's Playhouse & More
A salute to the gift organizations like Ken's Krew, Bitty and Beau's Cafe, and GiGi's Playhouse give to those with intellectual and developmental disabilities.
I am sometimes asked what I miss most about working at Home Depot. There are many things, but at the top of my list is the time spent with its people.
Whenever I traveled to visit stores — which I tried to do weekly — I would set up an informal dinner with associates who worked in that particular town.
At dinners like this, I'd ask each person where they came from. What led them to Home Depot. And what they liked (or didn't like) about their jobs.
I have a notebook full of amazing stories from those dinners. Perhaps none had a greater emotional impact on me than a conversation I'd had at a Home Depot store just outside Philadelphia.
In honor and recognition of World Down Syndrome Day on March 21st, and our latest guests Nancy Gianni and Adrienne Mulligan of GiGi's Playhouse, I'd like to share the story of that evening with you.
Confidence and Joy
She was a middle-aged woman and a mother, and said that she worked at Home Depot because of her son. As she did, she struggled to hold back tears.
I didn't immediately understand why she was so emotional. She just kept saying, in her effort to compose herself, how grateful she was to Home Depot.
When she gathered herself, she explained that her son was her only child. He was 25 years old. The father had left the family when the boy was only 18 months old. She had raised her son on her own ever since.
During that time, she said she'd worried every single night about what her son's future would be without her…until she started working at Home Depot.
Her son had Down syndrome. But for the past three years, he had been working alongside her as an associate at that same store.
He loved his job. It gave him confidence, purpose and friends. And — most importantly to her — she could be near him in the store. Not hovering over him, but able to keep an eye on him from a distance. She was able to watch as her son developed an independent life.
This made every day special for her. It wasn't work, she said. It was a blessing to see her son live and thrive and handle the ups and downs of daily life, surrounded by others.
Everyone at the table that evening shed a tear. For all of us, a job can be a source of satisfaction and fulfillment. Rarely is it a source of such profound personal love.
The Story Behind the Story
The story shared that evening was made possible by the generosity and thoughtfulness of one of Home Depot's founders, Ken Langone.
In 1997, in response to a friend whose adult child had Down Syndrome, Langone founded Ken's Krew, a program to support, train and place people with neurodevelopmental disabilities as associates in Home Depot stores. Nationwide, more than 80 percent of people with intellectual and developmental challenges are unemployed. Ken's Krew set out to match their abilities to Home Depot's needs while providing an often-marginalized group acceptance and support.
Ken's passion for helping others has kept the program vibrant for more than 25 years (and he has donated well over a million dollars to it).
During that time, Ken's Krew has helped more than 720 people succeed in the workplace and live more independent and fulfilling lives. The story from that dinner in Pennsylvania is just one of many.
Several years ago, Home Depot did a survey of the impact of the program on stores. Findings showed that employee morale and customer satisfaction were both higher in stores where Ken's Krew participants worked.
In recent years, Ken's Krew has expanded to other retailers including CVS, Wegman's and Scotts Miracle Gro. Meanwhile, here at Crazy Good Turns, we try to pitch in by featuring the stories of those who've provided similar opportunities to developmentally disabled adults, like Bitty & Beau's Cafe.
Founded in 2016, Bitty & Beau's is named for Amy Wright's two youngest children, who were born with Down syndrome. The business, which employs teens and adults with intellectual and developmental disabilities, began with a single location in North Carolina and has since grown to more than 20 locations in 12 states.
There is probably a Bitty & Beau's storefront, or a GiGi's playhouse location, near you. Or you may live in an area of service for Ken's Krew. If you'd like, search one of these organizations out and support them. But if nothing else, on March 21, remember to be grateful for the gift of an independent life.