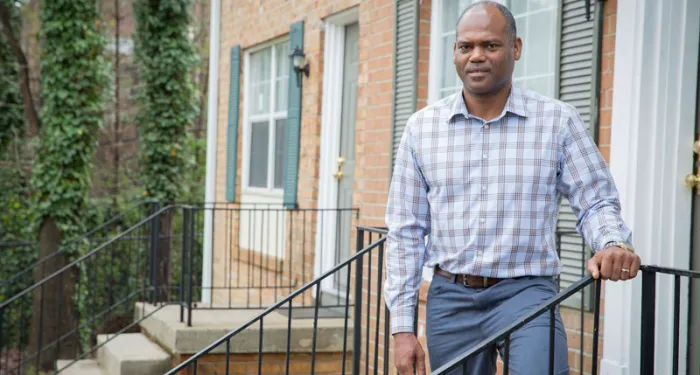 Mar 27 | 2018 | Season 3/Episode 6
Kenny Hill
A Launch Pad To a Better Life
A real estate investment takes a strange and delightful twist when Kenny Hill hears a calling: "What if, what you did for these homes, you could do for people's lives? Totally renovate."
Imagine you've just shoveled thousands of dollars into an investment property. You've spent long hours toiling to transform a run-down shell into a beautiful home. The market is up and you're set to profit nicely. But then someone asks you to give it away.

That's the situation Kenny Hill found himself in when his conscience spoke a few years ago. He and his wife had put a lot of money and time into turning around a series of townhomes. In this episode, you'll hear how just as they were finishing their renovations, Kenny heard a new calling: To help people renovate their lives.
Fast forward and those homes are the physical location of "The Launch Pad." But the buildings are just the beginning. The work that goes on inside is far greater. Find out how Kenny put together a super-team of people dedicated to empowering those in the Launch Pad's programs to make the right changes in every facet of their life.
Along the way, you'll hear stories of incredible transformation. People who were once homeless are now helping manage hotels. Single moms finishing their degrees and getting their families out of shelters. They're total-life makeovers brought about by an innovative new approach — one that could be model to help the larger problem of homelessness in the U.S.
Let's Celebrate: Gifts of the heart. "Love gives. Kindness is free." You'll hear in this episode how those five words changed everything in Kenny's life. And while, for him, they've led to some pretty spectacular acts and generous gifts, it doesn't take a big price tag to do something great. In fact many of the most powerful gestures cost nothing at all.