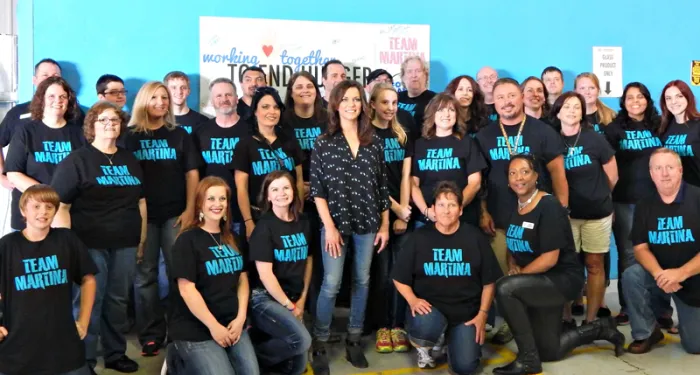 Jun 5 | 2018 | Season 3/Episode 12
Team Music Is Love
Martina McBride and Fans Spread the Love
Team Music is Love turns fans into volunteers and concerts into opportunities to make a difference. See how country singer Martina McBride takes her foundation on tour with her.
Every year, thousands of musical acts go on tour and perform shows in front of millions of fans. But for fans of country music singer Martina McBride, the day of the concert is more than just a chance to cheer and sing along. It's a chance to make a difference.

"They're just a very special breed of people," Sheila Jones says of McBride's fans. "I think they just feel so deeply and I think her music does that for you."
Jones is the executive director of Martina McBride's Team Music is Love Foundation. For the past seven years and counting, she's paired the needs of local communities with the eagerness of McBride's fans to give back. The results have been impressive - hundreds of thousands of pounds of food distributed, thousands of concert tickets given to those in need, and countless special memories made.
"I love the things that we've been able to do with it so far," McBride says. "Building the music program in Guatemala. The cancer research grant that we were able to do. Sending food trucks down to Texas and Florida…I feel like it's just going to have a ripple effect, starting little but getting widespread."
In this episode, you'll hear how one country star is using her platform to make a difference — and how one fan brought it all to life.
Let's Celebrate…Those Who Make a Difference. This episode is brought to you by the TIAA Difference Maker 100. If you work for a non-profit — or know someone who does — then you should definitely check it out.
The financial services firm TIAA is celebrating its 100th anniversary by recognizing 100 people who work for nonprofit organizations and are having a positive impact on the world with $10,000 to support the nonprofit organization through which they are making a difference. That's $1 million in donations to help difference makers like you keep up the good work.
Enter for your chance to win by sharing your story at TIAAdifferencemaker100.com between now and June 12. You can also nominate a friend by sharing their story, and they'll receive a chance to apply for an award.