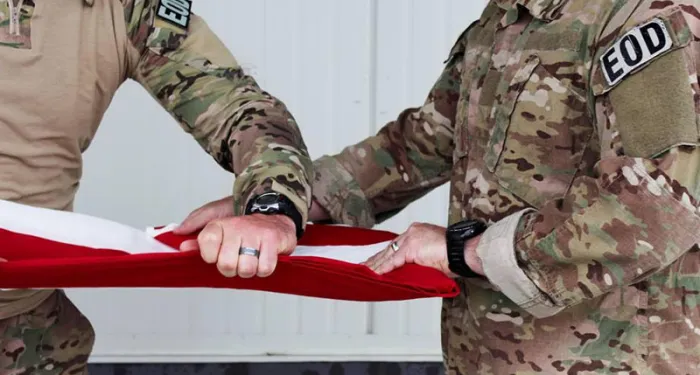 Jul 3 | 2018 | Season 3/Episode 14
EOD Warrior Foundation
These Military Heroes Walk Toward Bombs
EOD Warrior Foundation helps the men and women who save lives by performing the military's scariest job.
Independence Day is here again in the U.S. And if you want to have an even greater appreciation for the amazing things veterans do on behalf of freedom, this episode is a good place to start. Because in this episode, you'll hear about the EODs.

EOD stands for "Explosive Ordnance Disposal." The men and women who serve as EOD technicians do hands-on work with scariest things imaginable: nuclear bombs, chemical weapons, improvised explosives. They walk toward things that most people would run away from, then render them safe.
And while all branches of service have sacrificed tremendously throughout the 17 years since 9/11, the EODs have had a tremendously difficult war. From an active force that typically numbers around 7,000 people, there have been nearly 2,500 Purple Hearts issued to EODs. 135 EODs have died in combat in Iraq and Afghanistan. But for many, the battle doesn't end when they leave the war.
Ken Falke is the Chairman of the EOD Warrior Foundation. He also served for 21 years as an EOD technician in the Navy (there are EODs in every military branch). When the first EOD amputee returned to the U.S. from Iraq, Ken sat at his bedside at Walter Reed Hospital. It's a place where he's spent a lot of time in the years since.
In this episode you'll see how Ken and the organization he helped found are assisting wounded EOD technicians and their families. That can mean building adaptive homes or equipment that allows them to drive. For others, it means help finding a job or starting a business. And of course for some, the mission is to help them deal with the aftermath of trauma, or PTSD.
Hear Ken's take on PTSD and how to address it, and learn how he and his organization are helping thousands of veterans achieve "post-traumatic growth."