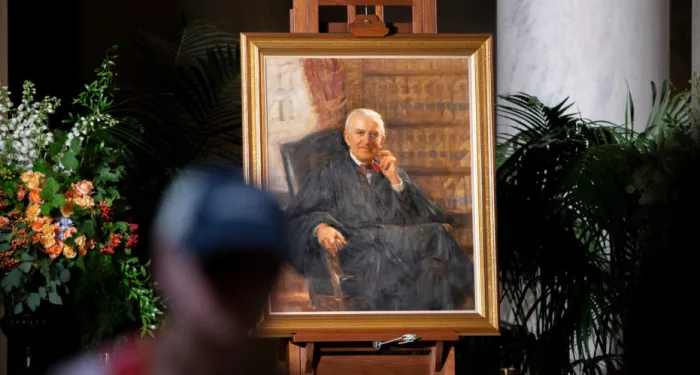 Jul 30 | 2019
My Favorite Story of Justice John Paul Stevens
Two months ago, I wrote a note celebrating the 99th birthday of Supreme Court Justice John Paul Stevens.
This past week, I was in Washington, D.C. to attend his funeral.
The Justice died shortly after taking a trip to Lisbon, Portugal with other Supreme Court Justices. This was something he chose to do as part of his commitment to living fully, regardless of age.
What Happened When He Walked
At a dinner following the memorial service at the Supreme Court, the Justice's former law clerks — of which I am one — told personal stories of Stevens and his impact on our lives. The stories had a theme: His humility, kindness and wisdom.
My favorite story was this:
Justice Stevens would take breaks from his chambers to walk outside the Supreme Court building. He liked to get fresh air and have time to reflect.
He mentioned to a clerk that a regular feature of these walks was taking photos with tourists who visited the Supreme Court.
The clerk assumed that this was tourists asking to have their picture taken with a member of the highest court in the land.
"Oh no," said Justice Stevens. "They want me to take a picture of them."
An Interesting Contradiction
There is a wonderful piece of advice in Austin Kleon's new book, "Keep Going." Kleon writes:
Job titles, if they're taken too seriously, will make you feel like you need to work in a way that befits the title, not the way that fits the actual work.
I have seen this in the business world over and over.
As people ascend through an organization and accumulate grander and grander titles, they often start to act as though they need to put a distance between themselves and others. They "don't do dishes." That's for someone else.
Imagine how easy it would be, if your title were "Supreme Court Justice," to assume that everyone should know that.
Someone else in Justice Stevens' situation, strolling outside the court, might easily respond to tourists with, "No, I don't take photos of you. You should be taking photos of me."
Life is full of interesting contradictions. We ought to take most seriously those who don't take themselves too seriously.
Job titles are best fulfilled by those who don't care about the title.
And often, you can see us at our best when we do things like take a picture for someone else.
Rest in Peace, Justice John Paul Stevens