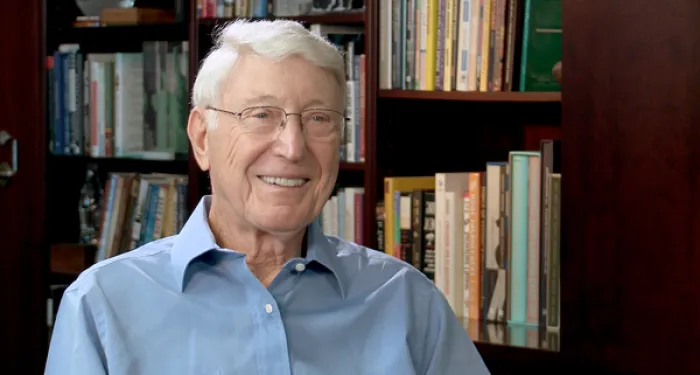 Jun 18 | 2019
"A CEO is Not Significant" — What Bernie Marcus Taught Me About Leadership
Bernie Marcus, a founder of The Home Depot, turned 90 recently. There was a major event here in Atlanta celebrating his birthday, and also thanking him for his amazing philanthropic contributions to the city, the State of Georgia, and to the world.
Bernie was the subject of a Crazy Good Turns episode during Season 2. So I'm not going to repeat here his many substantial acts of generosity, which have had such a positive impact on the lives of millions.
Instead, I will pass on two of the many pieces of advice that Bernie gave me during my eight years as CEO of Home Depot. They are easy to understand and remember. And in my opinion, it is advice that any leader at any level should keep in mind.
Why Being a CEO is Not Significant
Bernie's first piece of advice was one of the very first comments he made when I became CEO. He told me:
"You now have a prominent job. But you don't have a significant job. Don't confuse the two. You have a prominent job because you're the one who talks to investors, does interviews and so on. But you don't have a significant job, because the only significant jobs are the ones that help customers."
As we move to higher and higher levels in an organization, we tend to forget that. We tend to equate prominence with significance — and that creates all kinds of bad behavior, as well as an overall loss of bearings.
It is interesting that an echo of Bernie's comment appears in many Crazy Good Turns episodes: The primacy of doing for one. That is where every organization draws its strength.
A Note for Every Leader's Desk
Bernie's second piece of advice was:
"Now that you are CEO, you will tell a joke and the people around you will laugh. Just remember: You are not funny."
I think this quote should be on every leader's desk or screensaver. It's a reminder that the people around you will agree with, laugh with you, or nod their heads when you speak not because you are funny, smart or compelling.
They will do it because you are the boss.
You can impact their lives, and they want to keep on your good side.
So a small crazy good turn we can do for all those who work with us is to remember this fact and filter our interactions through humility.
For these great pieces of advice and many, many other things, I am truly grateful.