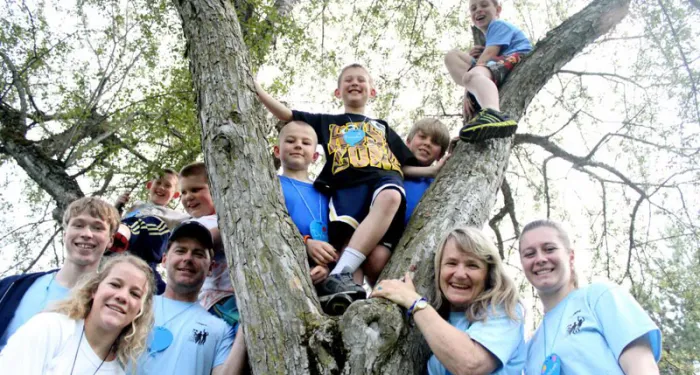 Aug 7 | 2018
12 Camps for Kids Who Need a Little Help
Think back to the best summer camp you ever attended, and days spent exploring the woods, playing capture the flag, and climbing rock walls likely come to mind. Sure, the activities were a blast, but experts say that when you (or your kids) spend a week or weekend at camp, something even more powerful happens.
"There many benefits provided by nature that can't be found in a non-camp setting," says Dr. Irene McClatchey, Director of the MSW Program for the Department of Social Work and Human Services at Kennesaw State University. A short list of those benefits of camping includes:
Time spent in nature can improve your attention and memory, according to Italian research
Problem solving increases self esteem and independence, both of which are crucial components for growth, according to research from Florida State University
The American Camp Association says the great outdoors can promote honesty, trust, and respect among campers
Camp participants get a chance to work together and solve problems with each other during activities, McClatchey says. These shared experiences break down walls and bring people together more quickly. At camp, strangers become friends within a matter of days or hours.
Bonding over your shared skills, hobbies, and experiences made the time camp great, and possibly even transformative. That's the principle that makes many modern camps successful, especially those programs designed for children who have been exposed to traumas.
In a recent episode of Crazy Good Turns, counselors and volunteers at Camp HOPE in Wisconsin, a retreat for kids and adults dealing with the death of a loved one, shared how they were able to shed enormous emotional burdens within a single weekend. The special thing about Camp HOPE is that 90 percent of the people who work there have also lost a close family member or friend.
"Knowing that everyone there has experienced trauma helps the campers understand organically that they aren't alone," McClatchey says. In 1995, she developed Camp MAGIK, a similar healing camp in Georgia for bereaved children and adolescents.
There many other camps in the U.S. like Camp HOPE and Camp MAGIK that provide safe environments where kids can heal next to others just like them—and have a blast in the process. (The similarly named Camp HOPE America, for example, is the first camping and mentoring initiative in the U.S. to focus on children exposed to domestic violence.) Here are 10 more:
This free summer camp is for children ages 8-15 whose parents are wounded, injured, ill, or fallen military service members.
Where: More than 20 locations including Georgia, Florida, and Virginia.
Children ages 9-12 can attend this camp, meant for kids who have been impacted by substance abuse in their families, for free.
Where: 13 locations including New Orleans, Chicago, and Philadelphia.
This camp, for children and teens ages 6-17, is the country's largest bereavement program for kids grieving the death of a significant person in their lives.
Where: Locations in every Major League Baseball city and other additional sites in the U.S. and Canada.
Massachusetts children who are experiencing feelings of hopeless and low self-image, but have problems expressing them in a healthy way, can attend this weekend camp.
Where: Duxbury, Massachusetts
This weeklong camp gives foster kids ages 6-12 the opportunity to participate in activities designed to boost their success and self-esteem.
Where: Locations in more than 40 states and other countries.
Outward Bound Intercept for Struggling Youth

This wilderness expedition is intended for youth and young adults at risk of academic failure and delinquency.
Where: 16 locations, including the Pacific Northwest, Central America, and India
Kentucky campers ages 6-11 can attend this weeklong retreat for children with behavioral, emotional, or physical needs who are in foster care or in the custody of their grandparents.
Where: Lebanon Junction, Kentucky

Children ages 8-17 who have lost a parent or sibling within the last 3 years to cancer or sickle cell anemia can attend this New York-based camp.
Where: Mendon, New York

Camp Connect

This camp is for children in San Diego who have been exposed to child abuse, abandonment, neglect, and have been placed in foster care. The program allows separated siblings to come together.
Where: San Diego, California

Camp Phoenix
Children in Texas who have been involved in a traumatic accident can attend this weekend retreat.
Where: Plano, Texas
To hear more about the transformative power of camping, check out our episode on Wisconsin's Camp HOPE.